Yahoo News & Yahoo Finance Crypto Blockchain Press Release Publication Service
Get featured on Yahoo Finance, Yahoo News and other Yahoo sites.
+
Bonus: Free syndication in other 400 Online News Sites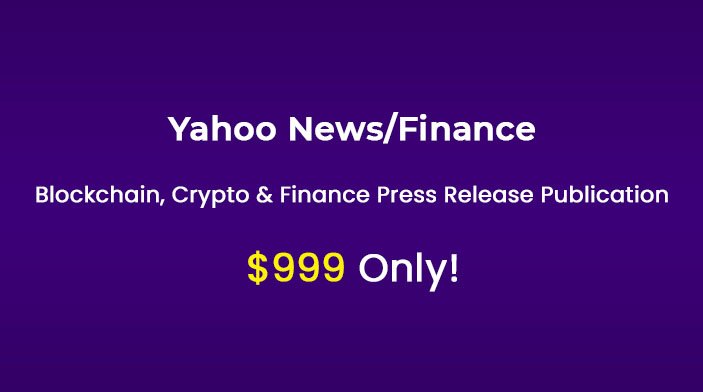 What Are the Benefits of Publishing Crypto and Blockchain Press Releases In Yahoo! News & Yahoo! Finance?
Crypto and Blockchain stories move very quickly and can be extremely complex, especially if they are related to Decentralized Finance (DeFi), Non-Fungible Tokens (NFTs), Cryptocurrency Tokens, Initial Coin Offerings (ICOs), Security Token Offerings (STOs), or Initial Exchange Offerings (IEOs).
Because of how fast Crypto stories develop (and become out of date) and the quantity of information they contain, getting them published online is the most effective marketing strategy you have.  It's stood the test of time and can guarantee you a wide audience.  Choosing well-known or globally accessed websites can give you an extra boost in terms of reach, credibility, increased traffic and the chance of going viral.
When considering where to publish online, you have many options, but Yahoo! News and Yahoo! Finance are good choices.  This article discusses why.
Why choose Yahoo!?
Founded in 1994, Yahoo! is one of the most famous search engines out there.  As of now, yahoo.com is one of the 10 most visited sites in the world.  Over the years, Yahoo! has branched out into different products.  Yahoo! News was launched in 1996, and Yahoo! Finance was launched the following year.
Yahoo! Finance is a regularly updated financial news aggregator.  It publishes running financial updates, financial data and stock prices, interviews and quotes from industry experts, blogs, independent financial advice, and press releases.
Besides the relevance of its content, Yahoo! Finance is a great choice because of its wide reach.  As of November 2020, the website boasts 93.3 million monthly unique visitors, 169 million video views, eight hours of live market coverage each day, and visitors spending an average of 62.8 minutes watching Yahoo! Finance videos.
If you publish press releases on Yahoo! Finance, you will be visible on the finance.yahoo.com domain, which can really drive your credibility and significant traffic to your website or business.  The site works on desktop and on mobile devices, adding to the potential audience and your own visibility.  This could result in thousands of new sales leads for you.
Yahoo! News has many similar advantages.  As of October 2020, Yahoo! News has 70 million unique visitors per month and a 50-50 gender split, meaning that the audience for your press release is diverse and balanced.  Connected to this notion of equality, 80% of Yahoo! News users associate the website with "trust". Publishing your press releases on such a trustworthy site can lead audiences to perceive your information as influential and high-quality.
Yahoo! Finance and Yahoo! News have additional benefits for publishing Crypto and Blockchain press releases.  The power of these websites means that they generate many high-quality backlinks, doing wonders for your SEO.  When your press releases are published on Yahoo!, there is a strong likelihood they will be picked up by other eminent search engines such as Google or Bing!  Your news stories will also be picked up by other news websites and media groups, increasing the chances of your press releases receiving wide attention and going viral.
The Bottom Line
When it comes to publishing your Crypto and Blockchain press releases, there are few better places to start than using Yahoo! Finance and Yahoo! News.  These websites are recognized globally, and you will generate interest amongst investors in your business by showcasing your credible DeFi information.  Their global reach – in the tens of millions of users – will generate sales leads and build your brand's reputation.
Both websites have strong regular users and communities, meaning that you can tap into this readership and build your business's profile.  In fact, Yahoo! backlinks to other websites and sources very effectively.   This coupled with the reasonably cost-effective approach of publishing press releases on websites, means that this is a very simple and effective way to generate significant business from your Crypto and Blockchain press releases.